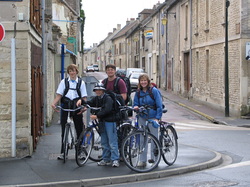 The Bohnhoff boys laughingly refer to family vacations as death marches. We routinely try to pack too many adventures into too little time. Frequently we don't plan adequately for little things like eating and sleeping.

I researched the story known as Code: Elephants on the Moon while on one such vacation with my family in the summer of 2005. Our plan was to take an overnight flight to Paris, spend one night sleeping and getting over jet lag, then take a train to Caen, and a bus to Ouistreham where we would pick up the bikes I had reserved over the internet, then ride 12 miles to Amblie, a little Norman village where we had rented a house for the week. While exhausting, this plan seemed doable. We packed lightly in suitcases that converted to backpacks and headed out with high hopes.

But things seldom go as planned. We ended up spending our first night in Paris in Dallas after our flight was delayed 24 hours. Determined to keep on schedule, we got off the plane midmorning and immediately made our way to the St. Lazaire train station, just in time to buy tickets and scramble aboard a train. We had no idea that some seats were reserved and some were not, so of course we sat in seats reserved by others, who happened to be French and not at all entertained by our lack of understanding. Soon we were on our way. Without, of course, any provisions for lunch. But that was okay. After all, we had gotten a small breakfast on the plane and the train trip was only two hours. We would be in Caen in time for lunch.

And we were. But, careful travelers that we are, we decided to first make our way to the bus station and check the schedule before eating. Of course, we arrived just in time to buy tickets and leap onto an out bound bus. No problem. Caen is only 17 km from Ouistreham. Google maps says it takes 16 minutes. 21 in traffic. But Google maps didn't account the frequent stops that a bus makes. I don't remember how long the ride actually took us, but by the time we arrived in Ouistreham we were hungry and tired and jet lag had caught up with us. Big time.

We must have looked terrible by the time we dragged our sleep deprived bodies into the bike shop; terrible enough that the workers adjusted the heights of the seats, then told us that they would drive us to Amblie in their little car and deliver the bikes the next day My husband was too proud to accept this offer, but I wasn't. While he and my two older sons rode through the picturesque countryside my youngest son and I careened through the French countryside in the back of a tiny car being driven by a woman who spoke French as rapidly as she drove. Before she left us she made sure that the proprietess of the property we rented knew that we needed a ride to the nearest market to get supplies. We were in good hands.