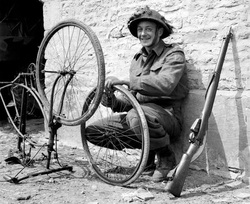 We didn't exactly storm the beaches when my family traveled through Normandy on bicycles. We tottered along back roads and through the narrow streets of villages. We were no army; just five Americans doing our best to absorb the sights, sounds and scents of a beautiful land.
Not everyone who's been on a bicycle had such idyllic purposes.
Bicycles were used more extensively during World War Two than I had ever guessed. In 1939 every Infantry Division within the Polish Army had a company of bicycle-riding scouts. that included 196 bicycles. The Jaeger Battalions of the Finnish Army used bicycles to deploy rapidly against the 1941 advances of the Soviet Union, switching to skis when the snow became deep. The Finns were still using bicycles in 1944, when the Germans had destroyed so many Finnish roads that tanks and other heavy equipment had to be abandoned.
Bicycles were used in France by the occupying German forces. They used bicycle patrols to cover areas quicker than patrols on foot and to send messages. They were used more often as gas became more difficult to attain.
The Allies used bicycles in France during World War II also. Canada's Highland Light Infantry used bicycles to cover the French countryside quickly. You can see pictures of their bikes stacked within the landing craft that took them to the beach on my pinterest board:
http://www.pinterest.com/jbohnhoff/
Even some of the American forces in France had bicycles. US forces dropped folding bikes, called "bomber bikes" out of planes behind enemy lines for use by our paratroopers and for messengers and French Resistance fighters who were supporting us.
I haven't included a single bike in Code: Elephants on the Moon. Perhaps I should in a future revision of the manuscript. Maybe by the time this book comes out in print (as opposed to an ebook) Sergeant Johannes Hegel will be leading his patrols through the narrow streets of Amblie and Reviers on bicycle.