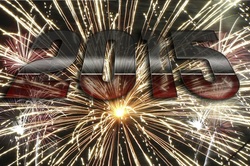 I understand that Christmas isn't over; the Christmas season lasts twelve days, ending on Epiphany, January 6th.
However, as soon as Christmas Day itself and the day after (Boxing Day to the English world and my youngest son's birthday in my little world) are over, I start to look toward the upcoming year.
I admit it now: I love to plan. Laying out how long a lesson should last, putting together a nine week plan is one of my favorite parts of teaching. Laying out a plot is one of my favorite parts of writing. And making resolutions is one of my favorite parts of the holiday season.
Resolutions for me are guideposts for where I want to go in the year ahead. I ask myself what I want to accomplish before the upcoming year turns old, who I want to be. Then I draft a list of goals that invariably would make me far thinner and smarter, my finances much more orderly, and my house sparkling clean were I to stick to my resolutions as resolutely as I should.
But life doesn't go the way I planned it to go. We have a fire drill and unscheduled assembly at school, and my nine week plan stretches to ten and a half weeks. One of my characters refuses to do what I wanted and my plot takes a twist I hadn't anticipated. I usually end the year a little smarter but not any thinner, with a pile of receipts that don't match my visa bill and more dust bunnies than I could round up in a weekend.
No problem: unfulfilled resolutions at the end of the year give me more to work on when devising new resolutions.
So here are my writing resolutions for 2015:
1. I will publish On Fledgling Wings in the spring. (In order to do this I will need Beta readers. My next blog will ask you if you want to be one of the few who will get the chance to read this novel before it's published.)
2. I will publish Swan Song this summer.
3. I will finish Summer of the Bombers by the time I go back to school in August.
4. I will begin research on a new book to write next fall.
In case you're interested, On Fledgling Wings is a midgrade (meaning for ages 10 and up) historical novel with a boy main charater. It's set in the time of Richard the Lionheart. Swan Song is a double retelling of Beowulf, with a contemporary setting and a prehistoric setting. It is a YA novel (meaning for older readers, ages 16 and up.) Summer of the Bombers is a midgrade contemporary novel about a girl whose family falls apart after a forest fire destroys her home. And the new book I want to write this fall will either be about World War I or a Civil War Battle that occured in New Mexico.
These are my plans. Hope you'll be a part of their being fulfilled.