November was National Novel Writing Month, and like scads (a technical term for a lot, but less than Carl Sagan's billions and billions) of crazy writers, I attempted to write a novel in a month.

I could have done it, too. I was pretty close to right on course: a few too few words some days, a few too many on others. Never so behind that I couldn't catch up.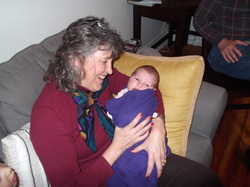 And then something happened. Specifically, Thanksgiving happened. And instead of spending my spare time battering the keyboard, I chose to spend it with family. Together with my husband, my oldest son, his wife and daughter, I flew to Pittsburgh. We stayed just down the street from my middle son, his wife, and their month-old daughter. My youngest son drove in from West Point, bringing another cadet with him.

I spent the last five days of November holding a baby, watching a toddler entertain her uncles (and vice versa), cooking big pots of New Mexican posole and stews, and reconnecting with the people who mean the most to me.

And my NaNo graph flat lined.

I'm usually a very driven person, and it's hard for me to let go of a goal, but sometimes it's worth it. Someday one of my novels might bring me a large piece of immortality, but my children and my grandchildren will definitely bring me my own, personal piece of tomorrow.

Now it's December and NaNo is irretrievably gone. My new project for the new month was joining a Crossfit gym on a special $21 for 21 days deal. If I stick with this for all 21 days I'll being doing as well as I did at NaNo. And maybe at the end of the month I will be able to report that, for the second month in a row, I am a proud loser.