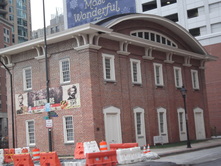 Last weekend I went to Baltimore for the Army Navy Game, a football game that has enough history to make it worth a blog post of its own.

As the taxi pulled up to my hotel on President Street, I was intrigued by this little building which was across the street. It was dwarfed by the high-rises surrounding it, and looked very out of place.
The building now houses the Baltimore Civil War Museum, a one room exhibit that is a mix of educational panels and curio cabinets filled with items - some identified and some not. But before it was a museum, this building was the President Street Station of the Philadelphia, Wilmington & Baltimore Railroad. Built in 1851, it was the first railroad station to have a barrel vault roof or incorporate a Howe truss, a support system more commonly used in bridge design.

But what really made this building special was not its architecture so much as the historical events that happened in it. The President Street Station was witness to a lot of Civil War history.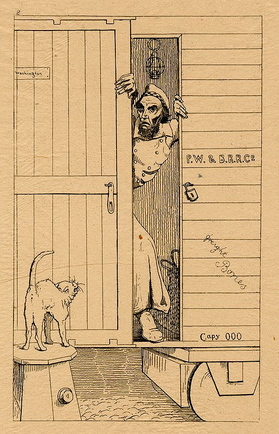 On February 23, 1861 Abraham Lincoln came through Baltimore on his way to his innauguation.

Originally Lincoln had planned to stop and give a speech. However, warned by the Pinkerton Dectective Agency of an assassination plot, he slipped through town in the pre-dawn hours wearing a cap rather than his recognizable stove-pipe hat.

If Lincoln had chosen to brave the gangs of pro-secessionists who intended to prevent his safe passage to the capital, President-elect Lincoln might never have lived to become President.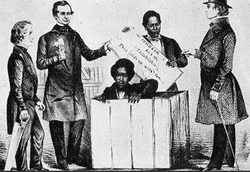 Lincoln wasn't the only person to hide himself in the President Street Station. Henry "Box" Brown arranged to have himself packed into a wooden crate marked "direct express to Philadelphia," and thereby escaped north to freedom from slavery. Frederick Douglas also used the PW&B line to escape, leaping onto a train as it pulled away from the President Street Station, which remains a site on the National Park Service's National Underground Railroad Network to Freedom.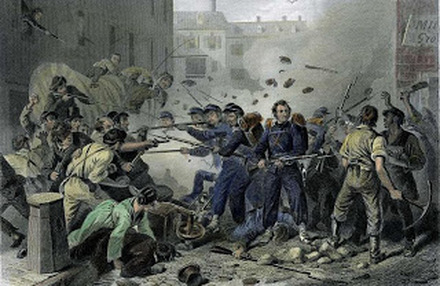 The event that the President Street Station is best remembered for happened two months after Lincoln's secretive trip through Baltimore.
Most people consider the Confederate attack on Fort Sumter on April 12, 1861 as the beginning of the Civil War, but the first blood was spilled o
n April 19, 1861, when the 6th Massachusetts Infantry, debarking at the President Street Station enroute to Washington D.C. were accosted by southern sympathizers who blocked their path and pelted the soliders with rocks and bricks. By the end of what became known at the Pratt Street Riots,
four soldiers and nine civilians lay dead in the streets.
For a first hand account of the Pratt Street Riot, click here.