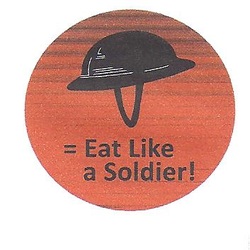 When I toured the
National World War I Museum
in Kansas City last month, I ate at their museum cafe. It was a different kind of experience.
Most museums have cafes for their patrons. Most serve the same, ubiquitous dinning room food: cold wraps or sandwiches from a glass case, salads, bags of chips. Some of the fancier ones might have a grill that serves up burgers. But this cafe was different.
The Menu for the Over There Cafe had a little symbol in its upper right corner: an orange circle with a helmet. It said that the helmet next to a menu item meant that the food was similar to that served to soldiers during World War I. Minus, of course, the bugs and dirt.


I had to choose between chipped beef on gravy over toast (which my WWI grandfather called "shit on a shingle," a mix of corned beer, turnips and carrots called trench stew, cabbage soup, or army goulash: a mix of hamburger, pork and beans, oregano and tomato sauce.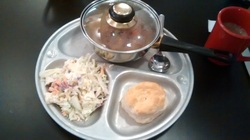 I ordered a cup of coffee and trench stew, which came with a side of WWI slaw and a biscuit served on a tin plate. The stew came in a glass-covered sauce pot. Perhaps serving the stew and coffee in battered tin cups would have been more authentic.
Recently I sent a recipe for triple ginger cookies to people on my friends, family and fans email list. One friend wrote back, suggesting that I incorporate period recipes in my historical novels. I think she may be on to something.