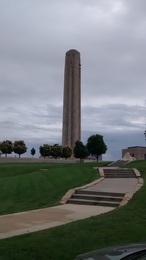 Last month I had the joy of visiting the National WWI Museum and Liberty Memorial in Kansas City. If you are at all interested in the war that changed the world a hundred years ago, this is the place to visit in America.
The Liberty Memorial
was created in the 1920's through the subscription of Kansas City's citizens. Perched high on a grassy hill, this Beaux Arts and Egyptian Revival memorial consists of a 266 ft tower topped by four 40 foot tall figures who are the Guardian Spirits. Each figure holds a sword. They represent Honor, Courage, Patriotism and Sacrifice.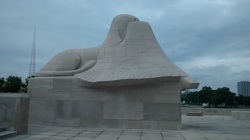 Two sphinxes flank the tower. "Memory" faces east, towards the battlefields of France. "Future" faces west. Both shield their eyes with their wings: one hiding from the horrors of war, the other symbolizing that the future is unknown and unseen.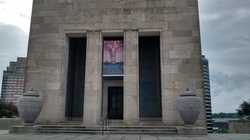 Two halls face toward the tower. One is Memory Hall, which has some of the most beautiful friezes I have ever seen. Exhibit hall houses some of the collection of the museum, which rests underground, beneath the Memorial.


Liberty Memorial is noble and somber. It is epic in scale. But what rests beneath it in the museum is even more awe-inspiring.