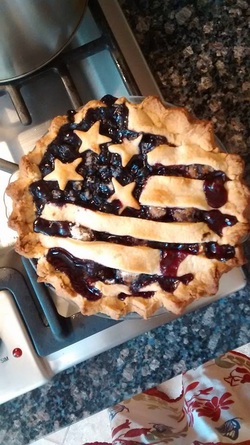 We may say "American as apple pie," but we Americans can't really claim pie as our own. The tradition of pie making came to the New World with our English ancestors, who encased not only fruits and custards, but meat, fowl, fish, eggs and vegetables in sturdy crusts and tender pastries.
During the Civil War era, only the rich and fashionable had a separate dessert course at dinner. The modest homes of farmers, artisans and shopkeepers served only one course. Apple and mince pies frequently appeared side by side with the meat, vegetables and bread.
They were also a common breakfast food, so if you've ever eaten leftover pie for breakfast (a favorite in the Bohnhoff household!) you are following a long standing tradition.

Housewives had practical reasons to make pies more frequently than cakes. Cakes required eggs, which were less plentiful in the winter than in the summer. The ingredients for pies: sugar, wheat flour, lard, plus fillings, were more readily available year round. During the winter months, dried or canned fruits were used to fill fruit pies.
The second edition of The Bent Reed, which I plan to put out during the summer of 2016, will have an appendix at the back that will begin with the information from this blog post. I'll publish a number of Civil War era recipes there, including peach (to recognize The Peach Orchard, a site of a major engagement during the Battle of Gettysburg), cherry and raspberry (because these were in season during the battle. Eating too many of them might have contributed to Robert E. Lee's problems.) and some savories as well. Most of these recipes will already have been sent to people on my friends, family and fans email list, which you can join on my website.
For now, you'll have to content yourself with just a pie crust recipe. This recipe is very versatile. It can be used for sweet or savory fillings, and can fill a number of different sized dishes. I rarely measure carefully, and that combined with the fact that flour acts differently in humid or dry conditions means that my crusts are never quite the same, but they are always good.
---
Good, Basic Pie Crust

Single Crust: (this size will fill two 6" pie plate is you're cooking for one or two)
1 1/3 c. flour
1/2 tsp. salt
1/2 c. shortening (I use Crisco, but lard or butter is authentic to the period)
2 1/2 to 3 TBS ice water
1/2 TBS cider vinegar


Double 8" Crust:
2 c. flour
1 tsp. salt
3/4 c. shortening
4 to 5 TBS ice water
1 TBS cider vinegar

Double 9" Crust:
2 2/3 c. flour
1 tsp. salt
1 c. shortening (I use Crisco, but you can use lard if you want to be authentic)
6 to 7 TBS ice water
1 1/2 TBS cider vinegar

Mix by hand method: Mix flour and salt. Cut in shortening until mixture resembles small peas. Sprinkle with water and vinegar, 1 tsp. at a time, mixing until it all sticks together. Refrigerate for about 10 minutes before rolling.

Food Processor Method: Dump flour and salt into processor bowl. Drop spoonfuls of shortening over the top. Pulse 2 or 3 times, until shortening is distributed. Pour vinegar into liquid dispenser and pulse one or two times. Continue adding water a TBS at a time until dough forms into a ball. Roll out on a flour covered piece of waxed paper.