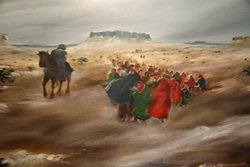 In the 1860s, while most of the United States was focused on a bloody Civil War between the northern and southern states, a very different war was being fought in the western territories of New Mexico and Arizona.

Here, Native Americans felt the pressure as more and more white settlers moved into their lands. They retaliated by raiding the settlements. Finally, General James Carleton decided that the only way to protect white settlers was to restrict the nomadic lifestyle of the Navajos and Mescalero Apaches by relocating them to a reservation.

Led by the famous Indian scout Kit Carson, New Mexico's Volunteer Militia began rounding up the Mescalero Apache and Navajo Indians. Knowing that the Navajo would never surrender unless forced to, Carson followed a scorched earth policy. During the winter of 1863-1864 he burned Navajo crops and orchards, killed their livestock, destroyed their homes, and contaminated their water sources. Once they gave up, the Navajo were forced to walk, some as far as 300 miles, to Bosque Redondo.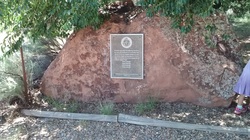 The Navajo remained at Ft. Sumner until June of 1868. During there time there they suffered from sickness, exposure and starvation. It is believed that during their incarceration between 500 and 1,500 Navajo died.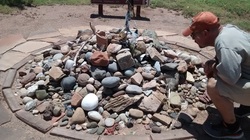 I visited Bosque Redondo, in Ft. Sumner, New Mexico, in July 2015. The fort is completely gone now. The Memorial that is there honors the Native Americans who were interred there and documents their story.
When I decided to find out what historical novels deal with this period in history, I found that there is very little written for this period. I found nothing representing the Mescalero experience, and only one book telling the Navajo story of the Long Walk. That one book is Sing Down the Moon, a Newbery Honor Book by respected author Scott O'Dell. Published in 1970, this novel has been a classroom staple for years.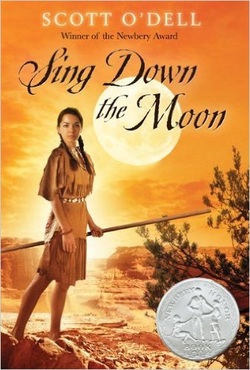 But not everyone likes this novel. A fellow teacher at my school who taught in Navajo country has told me that her students laughed at the many misrepresentations of Navajo customs and ideas.

One reviewer on Amazon who is from the four corners area wondered how much research O''Dell did. "I have never heard of mesquite growing around here or aspen in Canyon de Chelly or of the pueblo people eating dog meat and...... the owl a GOOD OMEN? I don't think so!!!! Any one from this area that has any knowledge of the Navajo culture knows that OWLS ARE NOT GOOD OMENS!!!"
I think a telling of this story from the perspective of a Native American is long overdue.