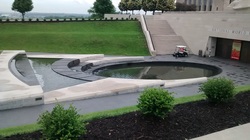 When I went to the
National World War I Museum
in Kansas City last May, I was delighted by quirky artifacts that really got me thinking. I wouldn't be surprised if some of them make it into a future novel, because they would add great depth and detail to a narrative.
Here are a few of my favorites: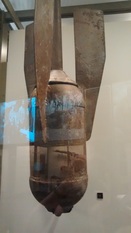 This projectile from a from a French 58 mm trench mortar was nicknamed the "Flying Pig" because of what it looked like in the air.

The Flying Pig was used by French, Belgian, and U.S. troops and had a range of 490 yards.

The video below isn't of a Flying Pig, but of an Australian trench mortar.

If I ever write a novel set in the trenches of World War I, I have GOT to have a Flying Pig in it!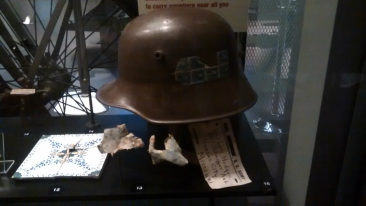 This Austrian helmet was sent home as a souvenir by an American. Back then, I guess the postal service had less restrictions than now, because no box or packaging was required to get this helmet from Europe to the U.S. The soldier (I'm assuming it was a soldier. It could have been a sailor or a relief worker for all I know.) Simply attached a tag with his mother's (girlfriend's? sisters?) Kansas City address and stuck stamps directly to the helmet. I hope I find a character with enough spunk and creativity to think about sending home souvenirs like this!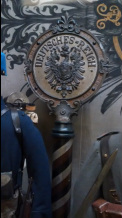 This is an Imperial German Border sign. Made of painted cast iron, a series of these marked the border between Germany and France.


In August of 1914, an elite French strike force penetrated the border on the southern flank of the engagement, capturing many of these border signs.


Can you imagine a young Frenchman bringing this home to his maman?
Am I planning to write a book set in World War I? Not at present. Right now, I'm finishing a final edit on a young adult novel that has two concurrent settings: Swan Song switches back and forth between a modern high school girl and a girl living in Europe during the Ice Age. I'm also researching a book which will be set in New Mexico during the Civil War. But I'm always musing what comes next, especially when I see something quirky that brings the period to life!