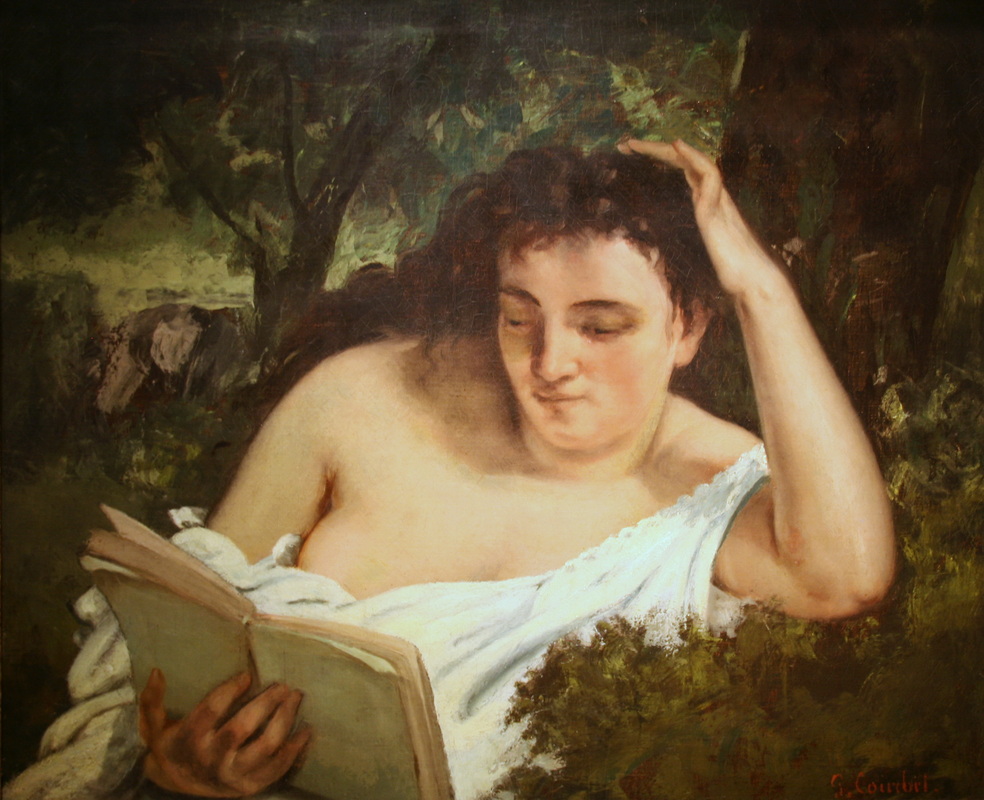 By Cliff from Arlington, Virginia, USA (A Young Woman Reading by Gustave Courbet) [CC BY 2.0 (http://creativecommons.org/licenses/by/2.0)], via Wikimedia Commons
I love being a writer.I love thinking about characters - who they are, how their backgrounds affect their decisions, how they will react to different circumstances, and how their reactions will affect their futures. I love thinking about plot - how the actions of one character creates a cascading domino affect, and where that affect leads, and what the whole ripple of actions means in the grand scheme of human experience. I love beginning a story and watching how it grows and changes and sometimes becomes something very different than the concept I had begun with. I love editing and deciding what to leave in and what to take out. But perhaps my favorite part of writing is researching.

I would probably be "researching" even if I wasn't writing: I just couldn't call it that. If I wasn't a writer, what I'd be doing would be called reading widely and deeply, and I'd have no excuse for why I do it except that I'm interested.

My research, like my writing, usually begins with a question or a topic. Swan Song, the book I intend to publish this fall, began with the question 'What if the Beowulf manuscript we know is just the first time a much older story was written down?' That led to 'What does it mean that Grendel the monster is called a son of Cain?" Those questions led to hundreds of hours of research on Beowulf, on Neanderthals, and a variety of related topics. I was lucky that I was working on a masters at the time, and that the NMSU library sent interlibrary loan books and scanned academic journal articles for its distance students.

Even though I've completed the manuscript, the topic still interests me, so I'm still "researching." Lately I found an excellent, informative B.A. Major Thesis entitled Female Characters in Beowulf posted on the internet. It was written by Petra Pochazkova, a student at Masaryk University in the Czech Republic. How I love living in the internet age!


Not all my research is online. Last fall my colleague Patrice Locke Lewis and I went to the ruins of Fort Craig, a 150 year old fort that saw action in the Civil War. Questions began circulating in my mind. What would it have been like to live at the fort in its heyday? Who was here? Ms. Lewis and I then proceeded south, to Las Cruces, where we visited a number of places including COAS, perhaps the greatest used book store in the southwest. I bought a stack of books related to the era and I began researching. Right now, I'm reading I Married a Soldier, a 1960s reprint of an 1890s memoir of a woman who accompanied her husband to his duty stations in New Mexico and Texas during the 1850s - 1870s. The reading is interesting, and I hope adds authenticity to the book I plan to begin writing this fall.


So here I sit, dividing my time between the Paleolithic period, the Anglo-Saxon era and the Civil War. Reading musty old books, academic papers, and flickering screens. Sometimes I have to put the research aside and reenter the present world, where meals need to be cooked, clothes washed, paychecks earned. But even as I take the car in to be serviced or sweep the front porch, a part of my mind is off on an adventure a thousand years or a thousand miles away.