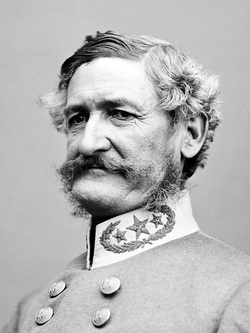 This is National Novel Writing Month, and I'm participating by writing a novel set in New Mexico during the Civil War. Today I got to a scene in which one of my characters, a young Texan named Jemmy Martin, sees Major General Henry Hopkins Sibley riding into San Antonio with his adjutants:

"At their center was a fine looking man with silver hair that caught the morning sun and made him look as if a halo circled his head. He had a great, bushy mustache, sideburns, and sad, drooping eyes that made Jemmy feel as if this man had seen all the sorrow the world had to offer and had learned how to push through it. Jemmy instantly felt as if he could follow the man anywhere."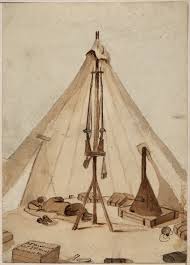 Many young men of the Confederacy were awestruck by Sibley. Many contemporary records attest to his natural charisma and ability to inspire people with his words.

Born in Natichoches, Louisiana in 1816, he had graduated from West Point and become a career soldier. He was also an inventor, famous for the Sibley Tent and Sibley Stove, both used widely by troops in both the north and the south throughout the Civil War.

At the time of the outbreak of Civil War, Sibley was a Major stationed at Fort Union, in northern New Mexico. He promptly deserted to join the Confederacy. A diary of a Union soldier stationed in Albuquerque says that, while passing through in a stagecoach, Sibley stuck his head out the window and shouted "Boys, I'm the worst enemy you have!"

Sibley was on his way to Richmond, Virginia, where he talked Jefferson Davis, the President of the Confederate States, into commissioning him as a brigadier general and authorizing him to recruit a brigade of volunteers in central and south Texas. Sibley's plan was to march to El Paso, then occupy New Mexico, seize the rich mines of Colorado Territory, turn west through Salt Lake City, and capture the seaports of Los Angeles and San Diego and the California goldfields, all while living off the land. His battle cry, "On to San Francisco!" inspired 2,000 men to join his campaign. By early fall of 1861, Sibley had three regiments of what he named The Army of New Mexico, plus artillery and supply units, camped on the outskirts of San Antonio.

But Sibley's plan did not go as well as he had hoped. One reason is that the population did not respond to his invasion the way he had hoped. During his Army service in New Mexico, he had seen that both indigenous New Mexicans and Hispanic New Mexicans disliked the presence of the American Army in their territory. He therefore expected them to support him with food for both his troops and his pack animals and horses. He was convinced that recent immigrants from the southern states would join his ranks. He also forecast that the Union troops in New Mexico would desert to his banner.


He was right to an extent on two of these three groups; many Union soldiers with ties to the south did abandon their posts to join Sibley, and many citizens were Confederate sympathizers, particularly in the southern part of the state. However, while most Hispanics and Indians didn't like the Americans, they truly hated Texans, and they considered Sibley's Army Texan, not Confederate. The citizens of New Mexico had no intention of supporting an invading army of Texans.

Futhermore, Sibley had a little personal problem; Sibley drank. He drank so much that one of his officers later called him "a walking whiskey keg." By the time the Army of New Mexico had reached El Paso, Sibley's once brilliant speeches had become rambling, confused rants, and even the common soldiers knew that their leader was affected with a severe and recurring case of "barleycorn fever." Halfway through the Battle of Valverde, Sibley turned the field over to his second in command and crawled into an ambulance, too incapacitated to lead. Sibley was not even present at the Battle of Glorietta Pass. While this battle, often called the Gettysburg of the West, was being fought, the General was nursing a hangover back in Santa Fe.

By the time the ragged remains of the Army of New Mexico had limped its way back to Texas, none of its embittered soldiers felt like Jemmy had on that first day he'd seen the General ride his horse through San Antonio. They had followed him into the wilderness, only to find that his grandiose dreams were nothing but a mirage.