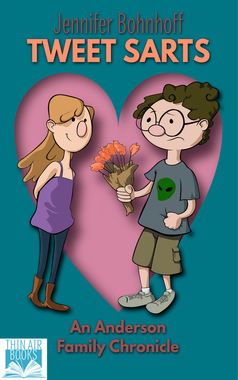 They say the way to a man's heart is through his stomach.
Although Hec fell for Sandy at first sight, there's no denying that her cookies played a part in winning his eternal devotion.
Here's the recipe for the cookie that won Hec's heart:
Sandy's Cookies
3/4 cup firmly packed brown sugar
1/2 cup softened butter
1/2 shortening
2 tsp. vanilla
1 egg
1 3/4 cup flour
1 tsp baking soda
1/2 tsp salt
1 cup candy coated chocolate pieces (such as M&Ms)
1/2 cup chopped pecans
Preheat oven to 375.
Beat brown sugar, butter and shortening until light and fluffy.
Add vanilla and egg. Beat well.
Stir in flour, baking soda and salt.
Stir in candies and nuts.
Drop by teaspoonfuls 2 inches apart onto an ungreased cookie sheet.
Bake for 8-10 minutes until light golden brown (unless you're Sandy, and then you can burn them a bit.). Cool 1 minute before removing from cookie sheet onto rack to cool completely.
Hec and Sandy are characters in Jennifer Bohnhoff's newest middle grade novel, Tweet Sarts: An Anderson Family Chronicle, which is now available to
preorder
as an ebook and will be available in ebook and paperback starting on January 15th.