Code: Elephants on the Moon is an award winning novel!
Code placed second among Juvenile and YA novels in SouthWest Writer's Annual Competition.
For more information, click
here
.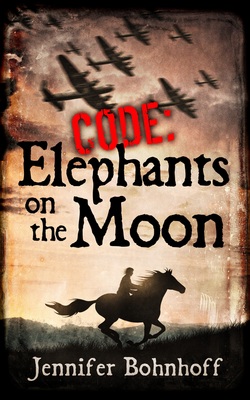 "And now some special messages," the radio announcer said. "The siren has bleached hair. Electricity dates from the twentieth century. The moon is full of elephants."

Elephants on the moon doesn't make any sense to Eponine Lambaol. Little has made sense since General Petain, the leader of the French government, allowed the German army to occupy half of France in the spring of 1940. After her father is conscripted to work on German fortifications, Eponine's mother moves to Amblie, a small town near the coast of Normandy. They are the only Bretons, and most of the natives seem to hate them even more than they hate the Germans. After Sarah, a Jewish classmate, disappears under mysterious circumstances, Rene, the charming and handsome son of the mayor, becomes the only remaining villager who treats Eponine well. He's hard to resist, but is he any safer than the disfigured German sergeant who tries to befriend her?

As rumors of an allied invasion swirl around her, Eponine begins to understand that nothing and no one is what it seems, and that the phrase 'The moon is full of elephants' makes more sense and is fraught with more danger than she could have ever believed possible.
---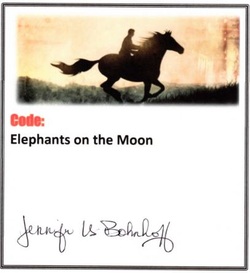 Do you have a copy of Code: Elephants on the Moon that isn't signed by Jennifer Bohnhoff? You can fix that! Either download a signed book plate like the one shown on the left by clicking the button, then print it, cut it out and paste it on the inside copy of your book.

Would you prefer a bookplate that's been personalized by the author with a dedication to someone? Use the form below to send your request to Jennifer Bohnhoff. Be sure to tell her what you'd like the bookplate to say and include your mailing address and she'll mail you one that's printed on peel and stick paper so that you can add it to your book!
---
---
The Setting for Code: Elephants on the Moon
Teachers! Want free lesson plans that align with the CCSS? Click
here
.
Scenes from the book. Click on the images below for more information.
Want more information about what life was like in occupied France?
Click
here
to access a five page paper written by Professor Rod Kedward, of the University of Sussex. This paper provides excellent background information for those who want to understand the historical context behind the story told in Code: Elephants on the Moon.
For further Reading.
If you liked Code: Elephants on the Moon and want to know more about World War II, here are some other books for you to consider:
Hero on a Bicycle, by Shirley Hughes
It is 1944 and Florence, Italy is occupied by Nazi German forces. The Italian resistance movement, much like the French maquisards, lives in the hills and woods, supported by the dangerous and clandestine work of ordinary people. Paolo and his sister, Constanza are desperate to fight the occupation, but what can two siblings do against a whole army with only a bicycle to help them?

This book, while set in a different country, has a lot in common with Code: Elephants on the Moon.
---
Under a War-Torn Sky by L.M. Elliot
This book tells part of the story told in Code: Elephants on the Moon, but from a different perspective. American pilot Henry Forester is shot down during a bombing run over France and must rely on the kindness of strangers like Eponine and other members of the Resistance on his journey behind enemy lines. This critically-acclaimed and deeply beloved novel explores the heartbreak of war, the strength of human spirit, and one young man's struggle to protect the things he loves.
---
Journal of Helene Berr by Helene Berr
This heartbreaking journal of a young Jewish woman in occupied Paris will only appeal to more mature readers. It is similar to the much better known Diary of Anne Frank, but Helene was a 21 year old college student studying English literature at the Sorbonne and so her writing, emotions and the events she speak about are on a much more adult level. She writes eloquently about the growing restrictions imposed by France's Nazi occupiers, giving a first person account of what France was like under German control.

---
Greater Than Angels by Carol Matas
The story of a young Jewish German girl who, with her family, is deported to a concentration camp in France and then finds refuge in the remarkable town of Le Chambon sur Lignon. Based on true events, this story shows the reader just how brave people can be when the put their consciences in front of their need for security.
---
Brothers in Valor by Michael O. Tunnell
Based on the true story of the Helmuth Hubener Group, a group of German teenagers who resisted Hitler by listening to foreign broadcasts and distributing pamplets, this midgrade novel focuses on how Nazis used youth organizations to undermine churches. While this particular story focuses on the Mormon church, how Hitler disenfranchised youth from their social tethers is an important lesson for everyone to understand.
---
The Last Mission by Harry Mazer
Mr. Mazer is beloved by young male readers, and with good reason. Like Under a War-Torn Sky, this book is also about the war from the perspective of an American airman. Fifteen-year-old Jack Raab uses a false I.D. and lies his way into the U.S. Air Force. He and his crew fly twenty-four treacherous bombing missions over occupied Europe, but then are shot down behind enemy lines and sent to a German POW camp, where his experiences are more terrifying than anything he'd ever imagined.
---
Soldier Boys by Dean Hughes
Dean Hughes is another great author for boys. His two main characters, Spencer Morgan and Dieter Hedrick, are on opposite sides of the war even though they are fighting for the same thing. Fifteen year old Dieter's blind devotion gets him promoted from Hitler Youth into the German army, where he is determined to prove his allegiance and bravery all costs. Sixteen year old Spence drops out of high school because he wants to prove to his friends and family that he really can be something. Their worst fear was that the war would end too soon -- that they wouldn't get the chance to prove themselves. But when they finally see the action they were hoping for, it's like nothing they could have ever imagined.
---
Code Talker by Joseph Bruchac
Ned Begay is a sixteen-year-old Navajo boy who becomes a code talker who uses his native language to send unbreakable code messages back and forth in the war against Japan. He travels from the American Southwest to the south Pacific, where he faces terrible fighting. This excellent novel tells the story that remained classified, its participants unsung heros, for too many years.

---
Code Name Verity by Elizabeth Wein
A darker and more violent book than many on this list, I recommend Code Name Verity only for older readers. Two women: one a radio operator who is supposed to operate clandestinely behind enemy lines, and a pilot who is supposed to only transport RAF pilots and other over English soil, go down behind enemy lines in Nazi-controlled France. Their story is told through the first person writings of the two characters, one in hiding with the Resistance and one in Gestapo hands.
---