"Sometimes patience is a greater virtue than fearlessness,
and a stout heart better than a strong head."
Nathaniel Marshal is a bully with a short temper and an empty place in his heart left by the mother who disappeared when he was a baby. The spoiled boy can't wait to leave boring Staywell and begin training so he can become a knight like his father, the cold and distant Sir Amren. But when he arrives at Farleigh, he finds himself in a place of death and danger.

Set in the period of Richard the Lionheart, this is a coming of age story about a boy who must confront issues that many modern boys will recognize: the need to control one's temper and destiny, the quest for acceptance, the desire for fitting in, and the awakening of love.

---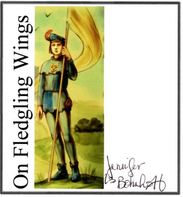 Do you have a copy of On Fledgling Wings that isn't signed by Jennifer Bohnhoff? You can fix that! Either download a signed book plate like the one shown on the left by clicking the button, then print it, cut it out and paste it on the inside copy of your book.

Would you prefer a bookplate that's been personalized by the author with a dedication to someone? Use the form below to send your request to Jennifer Bohnhoff. Be sure to tell her what you'd like the bookplate to say and include your mailing address and she'll mail you one that's printed on peel and stick paper so that you can add it to your book!
---
If you liked On Fledgling Wings, you might try these titles
Originally published in 1946, The Hidden Treasure of Glaston won Eleanore M. Jewett a Newbery Award. Set in Glastonbury, England in 1171, this novel shows what life in a monastery complex in the middle ages was like as we follow Hugh, the book-loving cripple left at the monastery by his father, and Dickon, an oblate, as they sort out mysteries in the natural and spiritual worlds.
---
In Michael Cadnum's The Book of the Lion, Edmund is a young apprentice who is awaiting punishment for counterfeiting when a knight intervenes on his behalf and takes him to the Holy Land to join Richard Lionheart's forces. There is plenty in this book to keep a boy's attention: sea storms, hand-to-hand combat and a great description of one of the most classic horse and lance battles in recorded history, the Battle of Arsuf, and through it all the main character learns both courage and compassion as he grows from boy to man.
---
In The Ramsay Scallop by Frances Temple, a 14 year old girl discovers that her fiance, Thomas is not the same man he was when he returns from Crusade. Broken and disillusioned from years of fighting, he finds the very idea of marriage and lordship overwhelming. The village priest sends them on religious pilgrimage, on which they meet other pilgrims who help them reexamine their lives.


---
Sylvie Weil's My Guardian Angel is set in the Rhine Valley and considers the plight of Europe's Jews at the hands of the Crusaders.

Set in the time of the First Crusade, this is the story of how the Jewish community in Troyes, France, lived in terror of the marauding crowds of zealots who had been whipped into a religious frenzy by the words of Peter the Hermit. The feisty main character, Elvina, can read and write: unusual abilities for a girl during this period.


---
Want to know more about what the Crusades were really about and how they changed Europe?
Click
here
for a good overview written by a professor at the University of Wisconsin.