Everyone loves a good Christmas read. Here's a short list of some of the best for middle grade readers.

The main character in Richard Peck's A Season of Gifts is twelve year old Bob, the son of a preacher and new kid in town, but the heart of this sequel to the Newbery Award winning A Long Way to Chicago and the Newbery Honor book A Year Down Yonder is the eccentric Mrs. Dowdel, an elderly, grumpy, gun-wielding woman who claims to have no interest in neighboring or in church, but has special gifts to share with both her neighbors and their new church.

Set in 1958, this heartwarming tale will remind you a bit of the innocence of the 1983 movie, A Christmas Story,

---
| | |
| --- | --- |
| Children of Christmas has six stories by the Newbery Honor winning author Cynthia Rylant that are perfect for reading aloud, if you can control your emotions. Like Hans Christian Andersen's Little Match Girl, these poignant stories of lonely and desperate people are are guaranteed to make you cry, yet her exquisite writing also conveys the special joy of the season, Stories include one of a lonely man who raises Christmas trees, a stray cat who finds shelter, an elderly widower missing his wife, an Appalachian boy who waits each year for a train bringing gifts, and more. | |
---
| | |
| --- | --- |
| | How was Christmas celebrated in 13th century England? Nathaniel Marshall, the son of a knight, spends Christmas at Glastonbury Abbey in my novel On Fledgling Wings. Nathaniel waits to see if the legend that the animals will speak at midnight is true, wonders if the saints looking down on him from the church friezes are watching him, and gets to serve the roast boar at the Christmas day banquet. |
But all too soon the peace of the season will pass, and Nathaniel will be embroiled in a battle for power at the manor house.

---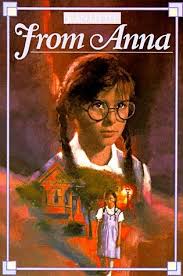 From Anna, by Jean Little, begins in Germany in 1933. Anna Solden is the youngest and clumsiest in a large family that treats her like the incompetent baby. After they immigrate to America to escape the worsening political scene, the family discovers that Anna can barely see. A new pair of glasses and a special class for the visually impaired helps her blossom into a proficient and confident child. The climax features a Christmas during the depression that might have been dismal had it not been for the pluck and cheerfulness of the family, and at which Anna comes into her own and proves to her family - and herself - that she can do anything she sets her mind to.

| | |
| --- | --- |
| And finally, new this Christmas, Jingle Night, the second in The Anderson Chronicles, my series of contemporary novels for middle grade readers. Hector Anderson just can't get in the holiday spirit. He's loaded down with homework, and too broke to buy presents for his family or his heart throb, Sandy. Meanwhile, sister Chloe wants to be the angel of death in the holiday play, a role as silent as younger brother Calvin's been since the loss of his hand puppet, Mr. Buttons. | As if reenacting the game of Clue, an old inn that's usually quiet at Christmastime fills with a hodge-podge of quirky guests, all of whom seem to be searching for the answer to a different mystery, which they share in a series of fireside stories. Twelve-year-old Milo, the innkeepers' adopted son, turns into the sleuth who must solve them all. This story is part mystery, part folk tale, part ghost story, with enough twists and turns to keep even the most finicky reader entertained. |
Little brother Stevie can only remember four words from the song he must sing at the Little Leapers Preschool Pageant, but he uses his slingshot to spread Christmas cheer, which Hec's perfectionist Father doesn't appreciate.

Hec is determined to solve his problems, and while Mom tries to eggnog and carol everyone into the Christmas spirit, he and his best buddy Eddie embark on a madcap plan to solve Hec's Christmas dilemma.

Here's wishing you a Merry Christmas and happy reading this holiday season.