Most middle school readers wonder if they were adopted. Some actually revel in it: who are these people, and why can't they understand me? Clearly my own people are elsewhere. Middle grade readers are going through so many emotional, physical and psychological changes that it's not surprising that they are drawn to books about other children who don't know who they are. Here are a few suggested books with this theme.

| | |
| --- | --- |
| Charles Dickens' Oliver Twist is the classic novel of mistaken identity. Originally published in monthly installments between 1837 and 1839, it tells the story of an orphan born in a workhouse in 1830s England. Oliver leaves the workhouse when he is nine years old and apprenticed to an undertaker, but runs away and finds himself in the company of a troop of pickpockets. Through a series of interwoven circumstances, the kind that only Dickens could have created, Oliver's identity is eventually revealed, and the orphan boy goes from rags to riches and takes his rightful place in the kind of generous and loving family that every middle school child wishes he had. | |
| | |
| --- | --- |
| | Jip, His Story written in 1996 by the Newbery winning American novelist Katherine Paterson, focuses on another orphan, this time a 12-year-old. Set on a poor farm in Vermont during the 1850s, it tells the story of a baby who supposedly fell of a cart and was never retrieved. He is called Jip because his dark skin color made people believe he was a gypsy. Despite the hard work and difficult conditions, Jip gets along well with the other workers on the farm, many of whom are mentally ill, and he enjoys working with the farm animals. But when a man shows up and begins asking questions about Jip's background, it becomes clear that Jip is no gypsy, and his real identity puts him in grave danger. |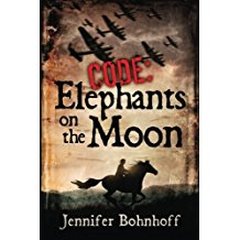 The main character of my historical novel
Code: Elephants on the Moon
may not be an orphan, but she still doesn't know who she is. Eponine Lambaol thinks she is the only red head in a town filled with brown-haired people because she is Breton living in a tiny village in Normandy, France. It is spring of 1944 and there are many things that Eponine doesn't understand. Where is her father? Who is the mysterious cousin who has come to live with her and her mother? When Eponine finds her mother and cousin listening to strange announcements on a forbidden radio, she realizes that nothing she's believed about herself is true.

Jennifer Bohnhoff
teaches 7th grade social studies in Albuquerque, New Mexico. She is the author of several works of middle grade historical fiction. Her most recent book, Valverde, is set in New Mexico during the Civil War