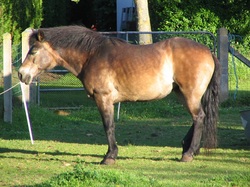 "Write something about a girl and her horse," an editor had said at a SCBWI conference I had attended that spring. Living out in New Mexico, I don't have too many chances to interact with editors at major New York publishing companies, so when told me to do something I took note. And the fact that SCBWI, the Society of Children's Book Writers and Illustrators, had brought this editor out impressed me even more deeply.

So here I was, walking with my husband through the little French Norman town of Amblie. It was evening and we had eaten the dinner of sausage and cheese and fruit and wine and very good bread that I'd carried back from Bayeaux in the handlebar basket of my bicycle. The shadows were growing long in this sleepy little town. Every once in awhile a villager would throw open their window and greet us. "Bonjour, les Americaines!," they'd call. Obviously we were the only visitors in town.

As we walked I thought about the story possibilities that this town offered. I thought about Amblie's close proximity to the D-Day beaches, the little Norman church, which had parts dating from the 9th Century and sat on a hill overlooking the 12th Century mill house we'd rented. There were so many possible time periods in which to set a story. And time period aside, what should the story be about? My French poet friend on the train (See the blog post entitled "Where Ideas Come From" in the April 2014 archives) had suggested the idea of the animosity between Normans and Bretons, but what could I do with that idea?

We came around a corner and saw this horse, and the editor's suggestion came back to me. Here was a horse whose story, perhaps, needed to be told.

He was certainly not what I'd call a handsome horse. He had a very thick neck and a large head, which made him look front-heavy. He had a barrel body set on short legs. I snapped his picture anyway, and told myself I'd think about who he was and how I might work him into the story.

When I got back home I began researching my stocky little horse and came to the conclusion that he was a Breton. The Breton is a horse bred for heavy draft and farm work. The breed was developed, as one might expect from the name, in Brittany, but the origins of its native ancestral stock, which dates back thousands of years, is disputed. Some sources say that the Bretons comes from horses that were brought by Aryans as they migrated into Europe from Asia four thousand years ago. Other sources says that the breed was developed by Celtic warriors who were preparing for their conquest of the British Isles. The ideal Breton stands 15 to 16 hands high, considerably larger than the horse I saw. Many of the pictures of Bretons on the internet show horses that are even greater in girth and shorter of leg than my horse. But he had won me over, ugliness and all. And as I began to write, he became Gallopin, the horse beloved by my protagonist.
Add yourself on to the mailing list on the homepage of this website if you want to be notified when Code: Elephants on the Moon becomes available.