L.M. Elliott's Under a War-Torn Sky is one of my favorite novels. It is a fast-paced read that really excites middle school boys who are otherwise reluctant readers. I used it several times when I was a reading intervention teacher, both as a class read and as an individual recommendation, and I've never had a boy not enjoy it.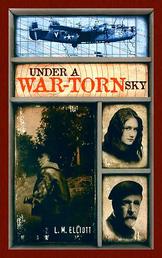 The story is about Henry Forester, a young man flying a B-24 in World War II. When his plane is shot down and he is trapped behind enemy lines, kind French citizens, some who are members of the Resistance and some who are just sympathetic to a frightened young man, help him to escape and return home via Switzerland and a treacherous route over the Pyrennes.


As one might expect, there are several plot elements in common between Under a War-Torn Sky and Code: Elephants on the Moon. My French girl, Eponine, has a very different life from the French girl who helps Elliott's Henry, but the both share some of the same opinions about the callow young aviators they help rescue.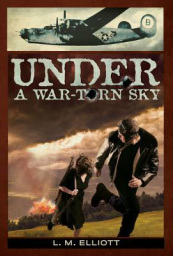 Some of the questions I was asked when it came time for me to commision the cover for Code: Elephants on the Moon was if there were any other books whose subject or theme were like mine. Could I suggest any covers that looked like what I wanted my own cover to look like?

I immediately thought of Under a War-Torn Sky. I googled it to find cover images and was surprised to find not just the one I was familiar with, but three covers.

I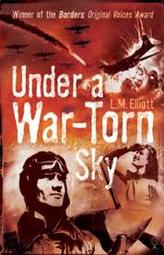 I sent all three of these images to the artist who created my cover. As you can tell, mine came out very different than any of these. This isn't surprising, since the focus of the two books is different. My aviator plays just a small part in my plot, while he is the main character in Elliott's.

I'm curious: which of these covers attracts your attention? Based on the very sketchy synopsis I've given you, which one best expresses the story? Would you buy any of these three books?


Knowing how you think might influence me when it's time to commission my next cover!