The Anderson Family Chronicles
Hec Anderson is a normal middle schooler - or at least as normal as any middle schooler can be. Read about him and his family in The Anderson Chronicles.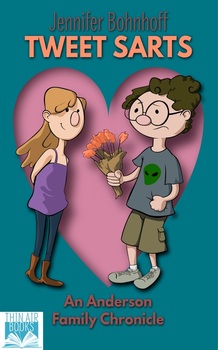 Volume 1: Tweet Sarts: A Valentine's Day Story

Valentine's Day is growing near and Hector ("Hec") Anderson feels like a sci-fi visitor abandoned on an alien world. His sister Chloe abandons her black Goth style for pretty pinks after getting roses from an anonymous admirer. Dad's long work hours makes Mom trade in her no- nonsense pony tail and sweatpants for capris and curlers. Calvin's hand puppet Mr. Buttons falls in love. Only Stevie, who loves Valentine's Day because of the sweet tarts and lollypops he gets at preschool, seems sane.

Life outside the Anderson household is no more stable. Hec's best friend shamelessly capitalizes on a bad situation as his parents seem headed for divorce.

All of Hec's confusion comes to a crisis point when the girl of his dreams moves to town and he must challenge the most popular boy in school for her attention at the school dance.

---
Here's my latest Goodreads Review!
Such a great MG book. I don't often get the chance to read MG books, so I wasn't sure what to expect. But this story has everything--humor, emotion, real life struggles, and a perfect little dab of romance. Both boys and girls will appreciate this book. I have to admit that I laughed aloud at several parts and made my husband read them as well. Definitely recommend!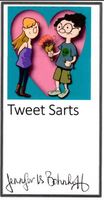 Did you buy a copy of Tweet Sarts but it's not signed?
I can remedy that!
You can either download and print your own bookplate
here
,
or email a request and I'll send one to you by mail!
Be sure to let me know what you'd like me to write in your book: just my name? To someone? On a special occasion?
---