Not all girls want to play the sports usually reserved for them. Unfortunately, girls face a lot of resistance breaking into sports that are traditionally in the males' domain. While this resistance might not be fun for girls who face it, it makes for great middle grade reading.

Spring is here, and the metallic ping of aluminum bats hitting baseballs rings through the land. Most of those bats are swung by boys, but there are some girls who'd rather hit a hard ball than a softball.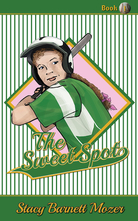 The Sweet Spot
, Stacy Barnett Mozer, is a great book for athletic middle school and upper elementary girls. Thirteen-year-old Sam Barrette's baseball coach tells her that her attitude's holding her back, but how can she not have an attitude when she has to listen to boys and people in the stands screaming things like "Go play softball," all season, just because she's the only girl playing in the 13U league. Lovely and sensitive, this book will help guide girls through the difficulties of asserting themselves and becoming leaders in a man's world.
The Sweet Spot
comes out in a new edition published by
Spellbound River
today. I'll be interviewing the author on this blog next week. If this book appeals to you, enter a giveaway at
Rafflecopter
.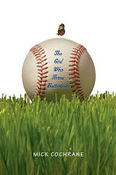 The Girl Who Threw Butterflies, by Mick Cochrane, is another book about a girl trying to play baseball. After her father's death in a car accident, eighth grader, Molly Williams decides to join the baseball team and show off the knuckleball her father taught her how to throw. Although the author does a little more telling than showing, this book also gives a fair picture of a girl overcoming hardships, both on the field and in her personal life.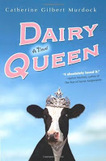 And, just because not every girl wants to play baseball, I'm including Dairy Queen by Catherine Gilbert Murdock. This novel tells the story of fifteen-year-old D. J. Schwenk, the only daughter of a farmer in Red Bend, Wisconsin who loves football so much that he names his cows after football players. D.J. knows a lot about football because of her brothers, but when she decides that she wants to join the team, the opposition nearly sacks her courage

Let us hope that the opposition to girls in male dominated sports truly becomes an historical issue soon.